A mix of exotic flavours with a touch of Norwegian taste.
Wholemeal thick couscous with curry salmon and coconut milk? Why not.
Spicy and sweet at the same time, a special unique course.
Ingredients:
400g fresh salmon
1 leek
1 tablespoon of curry
1 tablespoon of turmeric
1 pinch of paprika
1 glass of coconut milk
1 pinch of dry ginger
Black pepper
Vegetable broth or water if necessary
Seeds oil
250 g of wholemeal thick Couscous BIA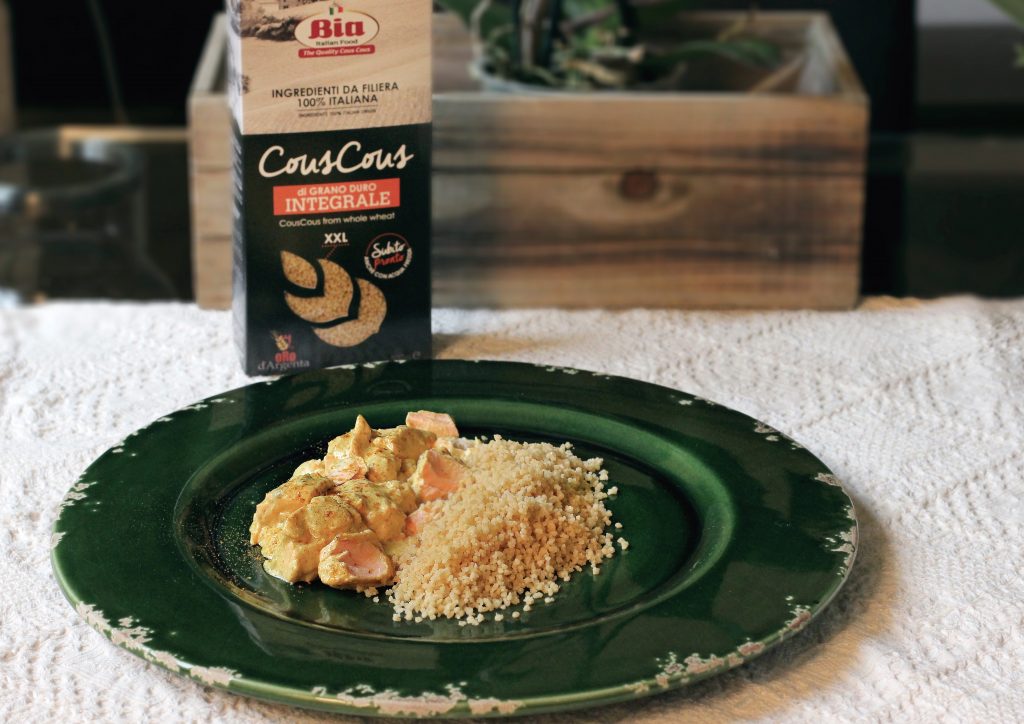 – Cut the fresh salmon fillet into cubes.
– Clean the leek and cut only the white part into thin rounds. Brown it in a pan with a little seeds oil, add the salmon and cook it on every side.
– Reduce the heat and add the coconut milk.
– Toast curry, turmeric and paprika in a pan and join them to the salmon with also a little dry ginger and black pepper to taste.
– Mix everything and cook covered until salmon gets well done. If needed, add a little vegetable broth or water too. It will have to be creamy.
– Steam the wholemeal thick couscous pouring it into a bowl with hot water. Cover with a lid and let it there for a few minutes (as indicated on the package).
– Serve it with curry salmon.