I got that package at my door almost by chance. I opened it without knowing what was in that and, surprise… Pizza delivery.
But from Naples.
Skeptical about frozen pizzas (you can easily understand why) I decided to put one of the 5 in the oven and during those few minutes I realized that in my oven something unique was taking shape. A proper wood oven pizza, identical to the one you find in the good neapolitan pizzerias but comfortably at my place and, above all, with your time.
I hoped it was good. It was not. It was excellent. It was delicious. It was so good that, without knowing the sender nor the company , I decided to share it with my followers through a post on IG and I started to talk about it to everybody. I was enthusiastic. And I am still that way today, when I discover realities that study something new and try with constancy and effort to spread it into the world of consumers.
After a few months, the phone call by Guido and Maurizio, the founders. I will tell you about them in the section People. About their dreams, their projects and their little but big creature.
'Apizza was born in Naples. It was born within the passion for mediterranean cuisine, from the desire to bring true pizza to everybody's place, exactly as freshly baked and with the neapolitan taste, unaltered despite kilometres.
Handcraftsmanship, quality, genuineness, tradition and innovation the fundamental values of this project.
Some days ago the visit to their lab. Imagine the kitchen of a real pizzeria, a wood oven, pizza chefs who work to the doughs, rising for 24 hours. Everything according to the original recipe of Raffaele Esposito, the first who created pizza in 1889 as a present to honour the visit of Queen Margherita di Savoia.
Hand stretched, seasoned and cooked rigorously into wood oven for no more than 90 seconds.
It gets into the abatement process when still steaming and in a few minutes it goes from a temperature of 90c to -30c, the secret of the method of cryogenics, thoroughly studied for two years.
This process allows pizza "to fall asleep in Naples, into a light and soothing sleep, and to wake up in any part of the world, ready to release all flavours of true neapolitan pizza".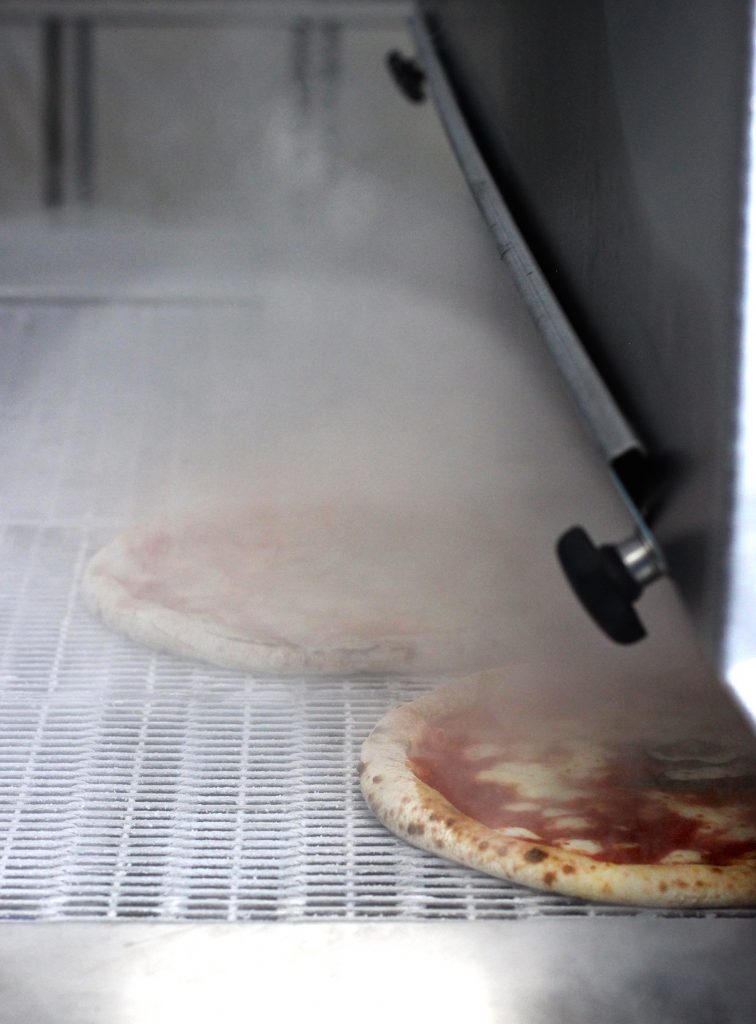 The long awaited moment of re-taste.
Every pizza brings along the genuine taste of territory and its top-quality ingredients, without adding any preservative, additive or flavouring. And also in gluten free version for people with celiac disease and for who choose a different dough.
A cutting-edge project I immediately believed in and whereby I can finally bring to every house my two creations.
Two pizzas that I have wanted and that, after eating them, I will order over and over again.
They are flavours from childhood and from Campania region I strongly care about and that have been really brought out by the quality of doughs.
"Cilentana", in honor of the part of Campania I come from and "Chiara's pizza".
For the first one, two layers of dough enclosing sautéed endive with oil evo, garlic, chilli pepper, raisin, pine nuts and provolone. Perfectly hot, sour and sweet at the same time. The other with a crust stuffed with ricotta and seasoned with tomatoe from Campania, olives of Gaeta and caciocavallo.
And from 30th of November they will be ready to reach you too J
To order them, you can call nr. 800931193 (from 10.30am to 5.30pm every working day) or write an e-mail to info@apizza.it.
Otherwise, you can wait for them to be online on the website http://www.apizza.it/it/ from November 24th.
I can't wait to share them with you and for any doubt or information please write me 😉