Christmas is approaching.
It's time for a detox before Christmas lunches and New Years'Eve dinners.
Salad, come to me.
These days I'm craving for it.
Today with pomegranate squeezed juice Natura Buona, the autumn fruit. To strenghten our immune system.
Why pomegranate?
Rich in antioxidants, vitamins and low in calories.
A cure-all in this time of year to fight against flu season (all the more so that I cannot fall ill now, Andrea wouldn't be happy)
Natura Buona juice is 100% fruit as just squeezed with only fruit sugars, without colourants and preservatives.
A variation to the usual salad with chickpeas, feta and mustard dressing. Very tasty.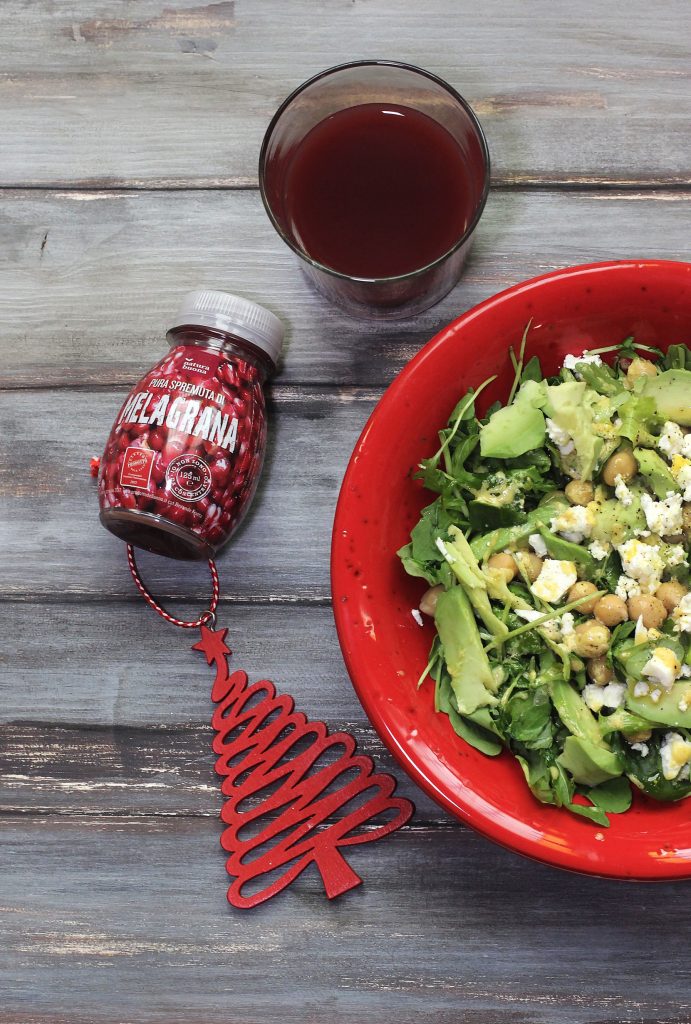 Ingredients:
300g mix salad
Rocket
2 ripe avocados
150g of feta
100g chickpeas in glass
1 lemon
40g white wine vinegar
Oil evo
100g mustard
Salt
Black pepper grains
Mustard dressing:
– In a bowl, melt a pinch of salt in the vinegar using a whisk.
– Join mustard and emulsify adding oil gradually.
– Grate a little pepper and adjust salt if necessary.
– Clean, wash and dry the mix salad and the rocket. Put it in a bowl.
– Cut the avocados into two, remove the pits and cut them into thin slices, then add them to the salad, lightly seasoned with oil, salt and some lemon drops.
– Add the drained and rinsed chickpeas.
– In the end, crumble feta (even using hands) on top and mix.
– Season with mustard dressing drops and serve.