I'm just back home from a tour in Rome totally devoted to discover new restaurants, small bistrot and culinary traditions.
I want to tell you my trip and the gastronomic choices that I loved so much.
I dedicated the first morning to visit the historical center, from Piazza di Spagna to Campo dei Fiori.
Just here I've been attracted by an old woman that made pasta all day long in front of the clients.
This is the Osteria da Fortunata: wooden tables, ceramic dishes and the Grandma's cuisine.
What to try? The sciavatelli, seasoned with one of their fresh sauces.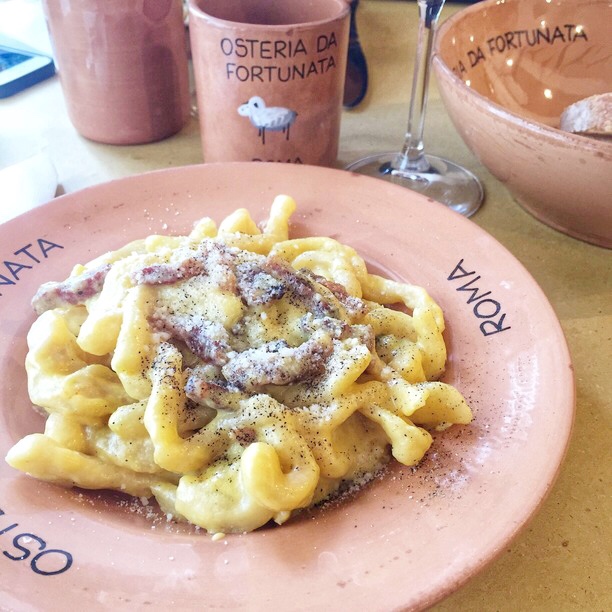 For the dinner I've already booked for the third time at Felice a Testaccio, that is a must for.
Modern tavern, narrowly furnished, that knows the traditional recipes and can attracts all the clients with an explosion of tastes and exceptional raw materials.
What to try? Giudia' s artichoke, crunchy, fresh and tasty.
Cacio e pepe tonnarelli, right cooking point, creamed in front of you, the best I've tried.
The abbacchio that melt quickly in your mouth, served in big portions.
The second day I woke up just salivating: I wanted to go to Antica Salumeria Roscioli for a long time.
Waiting increase the desire, and so I entered in this small shop so hopeful.
A small Emporium with a lot of jars, juices, salami, ham, paintings, wine and much more.
After a degustation of their local salami and their homemade mortadella with pistacchi and crunchy focaccia, I've tried the carbonara.
So tasty but the next time I'll continue with ham and good red wine.
An happy hour in one of the beautiful terraces of Rome is a must.
What to choose?
My friend brought me in a small white terrace, hidden back to the Sant'Agnese church in Piazza Navona: Terrazza Borromini.
Private and fancy, I think this is the best choice to see the sunset far from the mess of the city.
For the dinner I went to Trastevere, where I found Osteria Fernanda.
Homemade bread served in a warm towel.
The amatriciana with crunchy jowl, the spaghettoni with smoked eggplants, red Sicilian shrimp, pistacchi and coriander (signature dish).
To conclude "il cioccolato bianco": white chocolate stone, ice cream heart, salt, oil and pepper.
I'll definitely return there.
The day after I wanted to had lunch with a simple salad but Pane e Salame brought me to change my mind.
This small salumeria, behind the Fontana di Trevi, has beautiful cutting boards and sandwiches with ham just cut in front of you, fresh cheese and vegetables.
I don't know their secret, but their sandwiches are just amazing!
Before to come back home, I went to the restaurant Per me di Giulio Terrinoni.
A small dehors surrounded by the green Ivy.
Inside, designed but simple furnitures,black marble and big windows.
I took the degustation menu of the young Michelin chef : fish, oriental contaminations, colors and games of flavors.
Good wine list, with an important focus on the France.
I'm feeling nostalgic writing this text, and I can't wait to return in Rome.
By Giulia Gattiglia