It's spring time and there's the desire to have an "open air" lunch, on the riverside maybe.
While waiting a short trip, I would propose to you a fresh, light and irresistible recipe.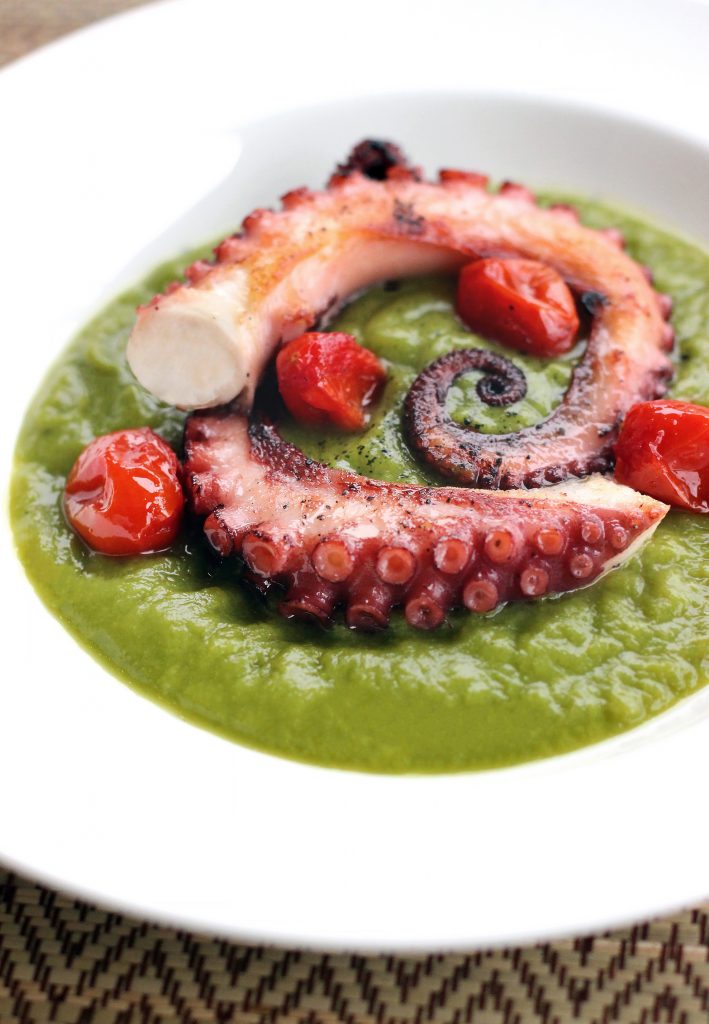 Ingredients:
600/700g whole octopus
700g of zucchini
1 potato
"datterino" or "ciliegino" tomatoes
1/2 glass of white wine
salt
pepper
brown sugar
– Put the cleaned and gutted octopus in a boiling and salted pot of water.
– Cook it for 30 minutes.
– When it's done, turn off the fire and let it in its water.
– Wash and cut in medium pieces the zucchini.
– Wash, peel and cut in big pieces a potato.
– Boil the potato and after few minutes the zucchini.
– Cook it until they became soft.
– Put the vegetables in a container with high edges and blend them with salt and pepper and the water in which they where cooked.
– You have to obtain a smooth and uniform cream.
– Let the evo oil become hot in a small wok.
– Add some small tomatoes with salt and brown sugar.
– Cook until the sugar will melt and the tomatoes will be softer.
– At this point pick up the octopus from the pot and cut its tentacles.
– Brown them in a wok with evo oil.
– Pour the half glass of wine and let it evaporate.
– Cover the octopus for 10 minutes.
– Warm up the potato and zucchini's cream and put it in a dinner plate.
– Add in each plate two tentacles and a few caramelized tomatoes.
You have to serve it warm and also try the recipe with other kind of vegetables.