Dough with pumpkin for my salted pancakes.
Pan sauteed spinach with a little extravirgin olive oil and a garlic clove and a small mixed cheese fondue to accompany them.
You are going to make them, aren't you?
Ingredients (for 7 pancakes):
300g of spinach
1 garlic clove
Nutmeg
Oil
Salt
Pepper
For the pancakes
75g of flour 00
150g of cleaned pumpkin
75 ml of fresh whole milk
1 tablespoon of grated parmigiano reggiano
1 big fresh egg AIA
1 teaspoon of baking powder for salted cakes
Butter
Pepper
Salt
Oil
For the cheese fondue
50g of milk
50g of stracchino cheese
50g of robiola cheese
25g of parmigiano reggiano cheese
45g of fontina cheese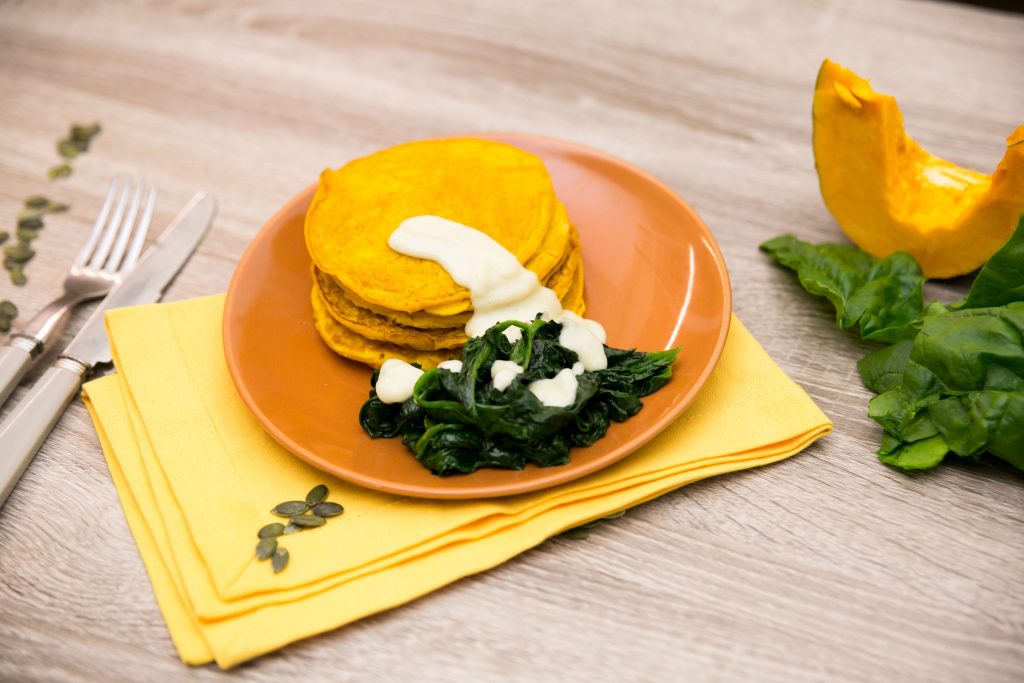 Preparation:
– Clean the pumpkin and cut it into pieces. Cook it in oven for about twenty minutes and blend it.
– In the meantime, clean, boil and squeeze the spinach. Cook them in a pan with a little oil and the unpeeled garlic clove. Adjust salt, pepper and nutmeg.
– Break the eggs and separate yolks from whites. Join the milk to the yolks and add oil and the blended pumpkin.
– Mix with a whisk until the batter is smooth and foamy. Add the sifted flour, the baking powder, the parmigiano reggiano and in the end a pinch of salt and pepper.
– Beat the whites  with a pinch of salt until stiff and add them gradually.
– Melt a knob of butter in a nonstick pan and pour a ladleful of batter. Go on this way until the end.
– Cook the pumpkin pancakes over a low fire, more or less 2 minutes for each side.
For the fondue:
– Heat the milk in a small pot and add the different kinds of cheese, one by one. Melt it all together over a low fire, stirring repeatedly so that the fondue won't stick to the bottom.
– When the cheese cream is ready, serve it with the hot pumpkin pancakes and the spinach.